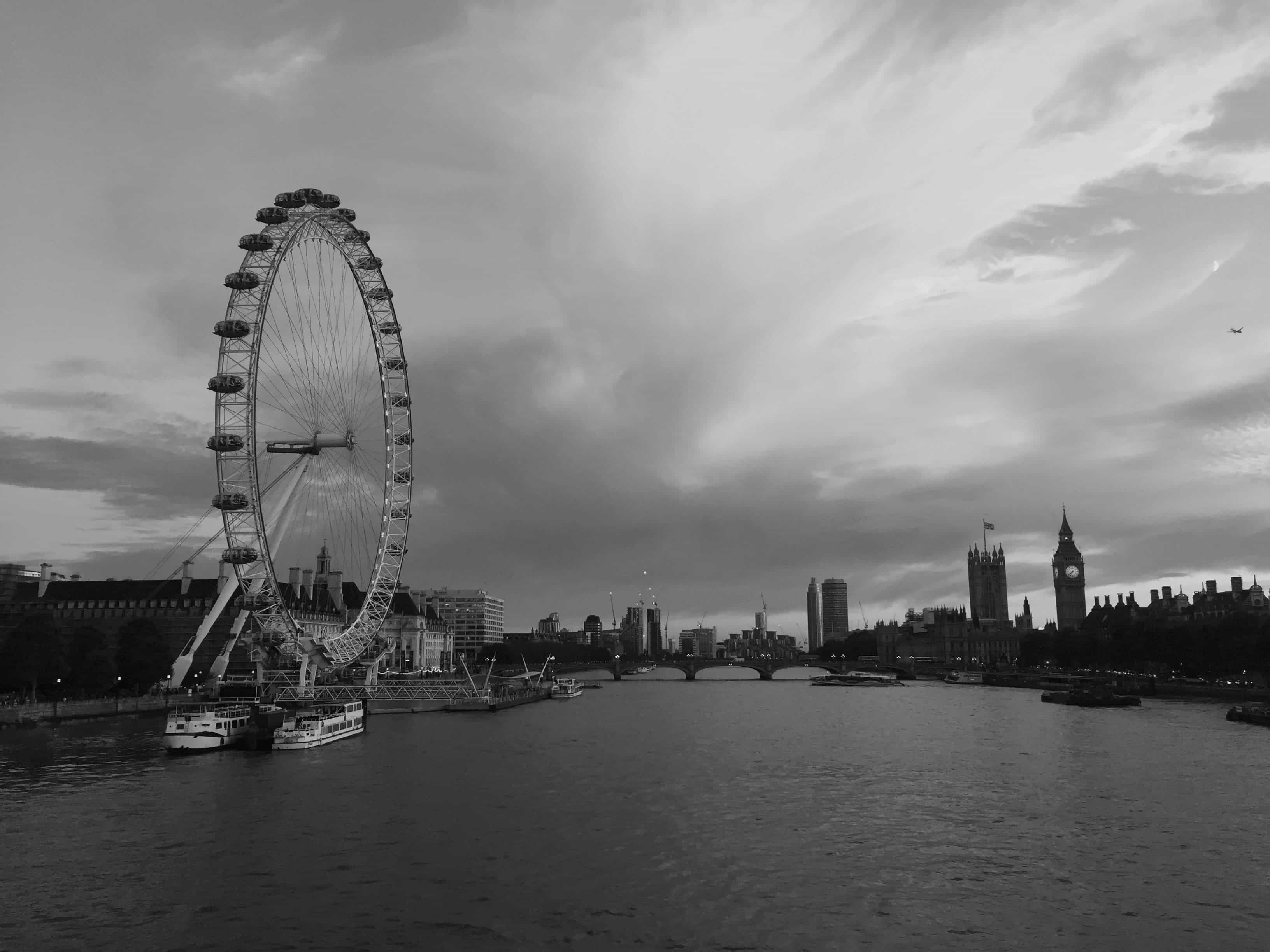 (re)Think
(re)Build your #BusinessStrategy
for a post-pandemic future
Get your FREE account NOW
(No credit card required.)
Everything has changed. What will you do about it?
All the tools every business needs to think and act strategically.
Analysis:

Business Model Canvas

The McKinsey 7S Framework

PESTEL Analysis

Porter's 5 Forces

SWOT Analysis

The Strategy Canvas

The BCG Matrix

Value Chain

Scenario Development
Control:

Control the execution of your strategy using a RAID Log.

Maintain a Risk Matrix

Manage your Stakeholders.

Track your KPIs on a graphical Scorecard.

Feed the results back into your analysis.

Direction:

Vision, mission and values.

Strategic goals, objectives, KPIs and targets in each of the 4 perspectives of the Balanced Scorecard.

"Strategy House" communication device.
Planning:

Balance your key initiatives across the 3 Planning Horizons.

Manage your initiatives through the evaluation, prioritisation and approval cycle.

Agree costs and benefits, relative to your goals.

Build your Implementation Roadmap.

Map your initiatives against your goals to confirm alignment and completeness.

Test your initiatives against your scenarios for robustness.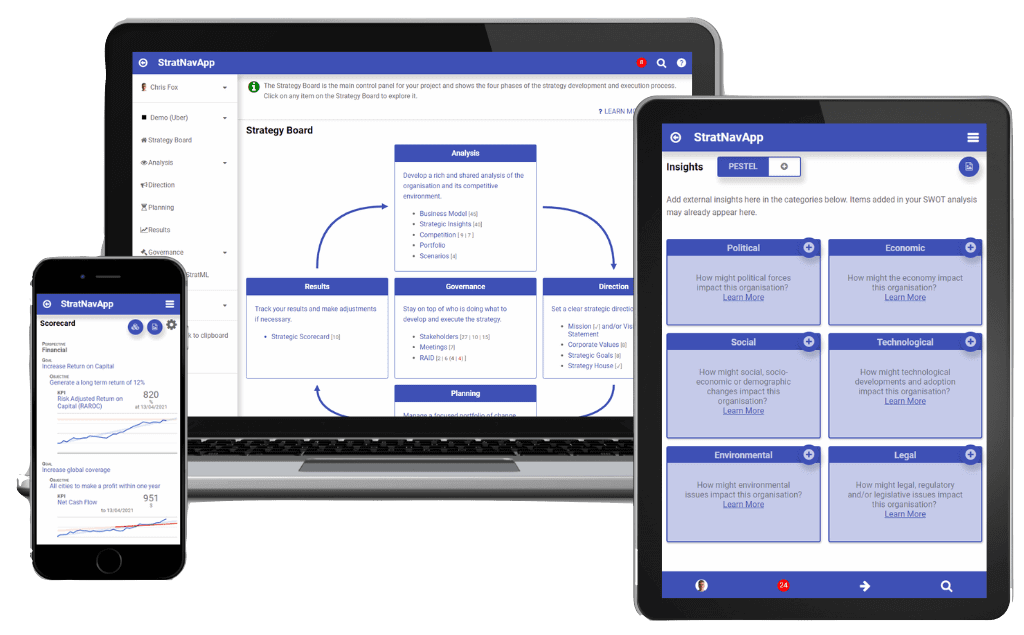 All the tools your team needs to collaborate any time from anywhere on any device.
Payment Plans
Standard

Premium

Enterprise

Price

Free


(forever)
£10 per month (GBP) per user
Contact us
Number of projects
Up to 3
No limit
No limit
Number of users per project
Up to 5
No limit
No limit
Analysis

Business Model Canvas, PESTEL, 5-Forces, 7S, SWOT, Strategy Canvas, Pareto, BCG, Scenarios, Value chain

Direction

Vision, Mission and Values

Goals, Objectives and KPIs

Up to 3 per KPI
No limit
No limit
Up to 12 per KPI
No limit
No limit
Planning: initiatives, timeline, 3 horizons, approval cycle, RASCI
Control: RAID log, Risk Matrix, Stakeholders, Scorecard
Search
Within one project at a time
Within one project at a time or across all projects
Within one project at a time or across all projects
StratML ouput: Part 1 and Part 2
Personal Calendar and Actions: see all your meetings and actions across all your projects.
Calendar Integrations: Add strategy meetings from StratNavApp.com to your calendar

Google Calendar
iCal for Outlook

Web Clipper: Bookmarklet for snipping content from the web.

(first 3 months only)
File Vault: upload and link files and images where they belong.
API integrations: connect your existing systems to StratNavApp.com.
MSWord Reports: generate reports at the click of a button.
Standard Template
Customisable Template
Customisable Template
Support by Zoom
Payment methods
Credit card
Credit card or invoice
Advertising supported (using Google Ads)

(after 3 months)
We also offer a range of services providing you with a little extra help, if you need it.
What some of our customers say

Excellent Software - makes strategy simple!
Excellent software for strategists or businesses looking to develop and execute their corporate strategies in the modern world.
The software allows businesses to develop their strategies in a collaborative way and utilise strategic frameworks and tools with ease.
Matthew Hall, Director of Strategy, United Kingdom

The greatest tool for strategists
It's been an amazing tool to execute strategy for my firm and other firms. The ease of use and the convenience to have everything in one place to execute the firm's strategy in collaboration with stakeholders is of great value, and to be able to issue and print the strategic plan in a professional layout in seconds is simply great, just to mention some of the many things I've found in StratNavApp.com. I'm very satisfied with the service thus far.
David Sierra, Business and Executive Coach, Mexico

"A very intuitive tool for my students at a masters course for Business Strategy."
Vassilios Peristeras, Assistant Professor at International Hellenic University
Reviews available at TrustPilot.