Would you like to learn to develop and execute better business strategies more effectively with StratNavApp.com?
Are you:
New to business strategy?
Already engaged in business strategy but looking to become significantly more effective?
An internal or external consultant, a line manager, a small business owner, or working in a startup? Or aspiring to any of these?
About to develop a new business strategy or refresh an existing one?
If so, this programme is for you!
What you will get:
A detailed and practical understanding of a range of best practice business strategy processes, models and frameworks. And not just each model and framework on its own. But also how they fit together to deliver business strategies that really work.
Tried and test tips on how to overcome some of the most common barriers to business strategy development and execution. These include stakeholder management, how to build an evidence base, and how to craft a compelling story.
Hands-on guided experience of using StratNavApp.com to develop and execute business strategy. (See below for more details.)
Free access to the Premium Plan on StratNavApp.com for the duration of the course.
A strategy for your business. We won't work on abstract examples and case studies. All of the training will be structured around your business, challenges and opportunities. So you will finish the course with a business strategy you can continue to develop and execute. (This benefit is optional. It will require you to open up to the trainer about your business strategy, challenges and opportunities. We can sign a specific non-disclosure agreement if required.)
A certificate of completion.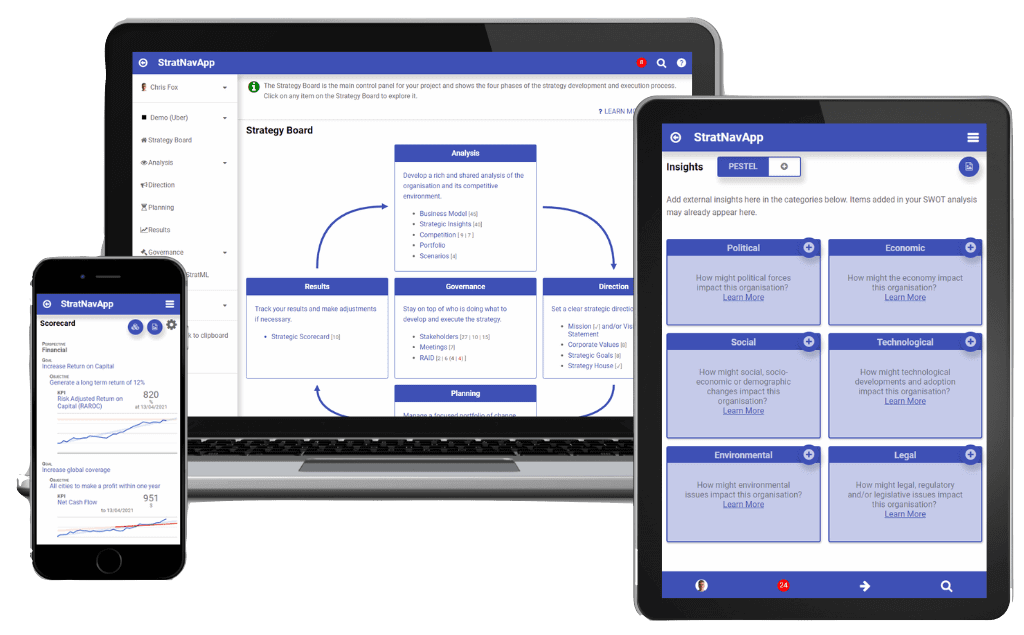 The StratNavApp.com advantage:
StratNavApp.com is the collaborative online tool for business strategy development and execution. It delivers best practice at your fingertips.
Placing StratNavApp.com at the centre of your training means you finish your training with practical skills you can use. Not just book knowledge that is difficult to apply.
How the training works:
Bespoke one-to-one training designed around your specific needs. Each student is different. And each student gets training specifically tailored to thier needs. It's more like coaching than like old-fashioned training!
All training is personally delivered by Chris Fox. Chris is the founder of StratNavApp.com. He is also a business strategist with over 20 years of practical experience in the field.
The course consists of 1 session a week for 12 weeks. Each session lasts 1 hour. All sessions are 1-to-1 to ensure optimum personalisation and to maximise the use of your time.
All sessions will be run using Zoom video-conferencing and screensharing.
Using screen sharing so that we can work live in StratNavApp.com and both see the same screen.
Homework assignments for you to complete between sessions using StratNavApp.com. We will review these together at the next session.
Available anywhere in the world.
What you will need:
A computer connected to the internet.
A Zoom account. (A free Zoom account is enough.)
A browser. (Google Chrome preferred.)
A hunger to learn and improve.
That's all. We will bring the rest!
What does it cost? By using the latest advances in technology, we can deliver all of the above for only £7,500.
COVID-19 recovery special.
The world is changing and you need to get ahead of the curve. We'd like to help.
This course is currently available for a limited time for only £4,500.
Ready to get started? The next steps are:
Fill in a short questionnaire about your current level of knowledge and experience.
Schedule a free no-obligation Zoom conversation to talk about your needs and how we can customise the course for you.
The small print: