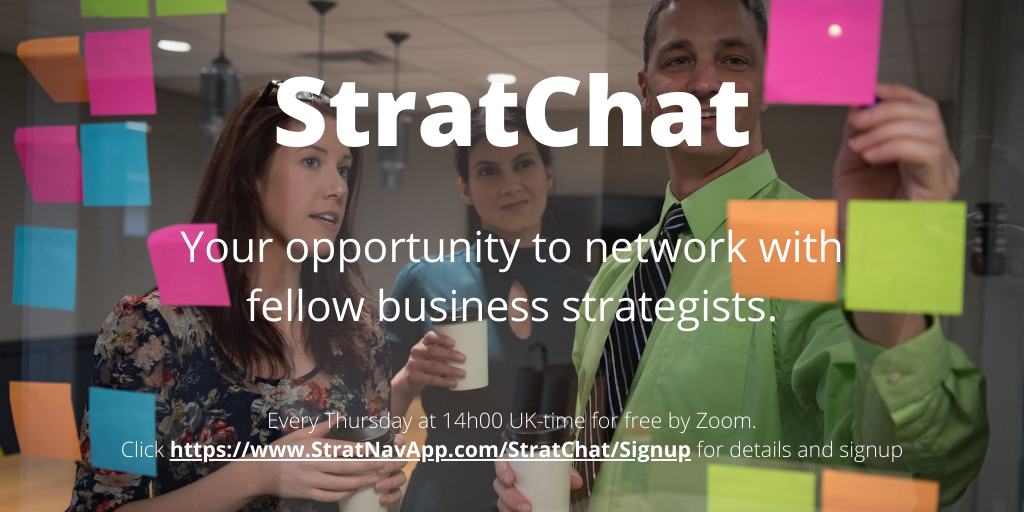 #StratChat
Business Strategy development and execution networking.
Meet like minded individuals from around the world. Share experiences and ideas.
FREE over Zoom.
Hosted by Chris Fox, founder of StratNavApp.com
Scroll down to sign up.
Network with other business strategists. Share your perspectives and learn more about business strategy development and execution.
About this Event
#StratChat is an opportunity to network with and learn from other business strategists.
Meetings will be held each week at 14h00 UK time every Thursday. They will last 1 hour and will be held via Zoom. Attendance is FREE.
Anyone with an interest in business strategy development and execution is free to join.
experts or beginners;
consultants, people with strategy roles in organisations, or just people with an interesting in thinking and acting more strategically; from anywhere in the world.
You will receive the Zoom code and password by email as soon as you sign-up.
Approach: each week we will pick a broad topic, and prepare a few questions. However, the conversation will be community-led. So there is no way of predicting where it might go! As long as it is about business strategy development and execution.
Rules of engagement:
Chatham House Rules apply: participants may report who was there, and what was said, but not who said it.
To make sure the conversation is friendly and informative, please ensure your camera is switched on.
No sales pitches.
Meetings will be recorded but the recordings will only be made available to those who attend. Notes may be published shortly after the meeting.
To join, simply sign up below.