Creating a Strategy Scorecard on StratNavApp.com
With StratNavApp.com you can build a Strategy Scorecard to help you track progress against your Key Performance Indicators (KPIs) as you execute your business strategy.
The Strategy Scorecard will show:
Categorised by Balanced Scorecard perspective
Your long-term goals
Your SMART objectives to meet those goals
And your KPIs to track progress towards those goals and objectives, including

The most recent measurement for each KPI
A chart showing that KPI over the last 3 years (including targets and actual results)
Commentary on the last measurement for that KPI
Here is an example of what your scorecard could look like. (Note that the data on this scorecard has been generated by a random number generator.)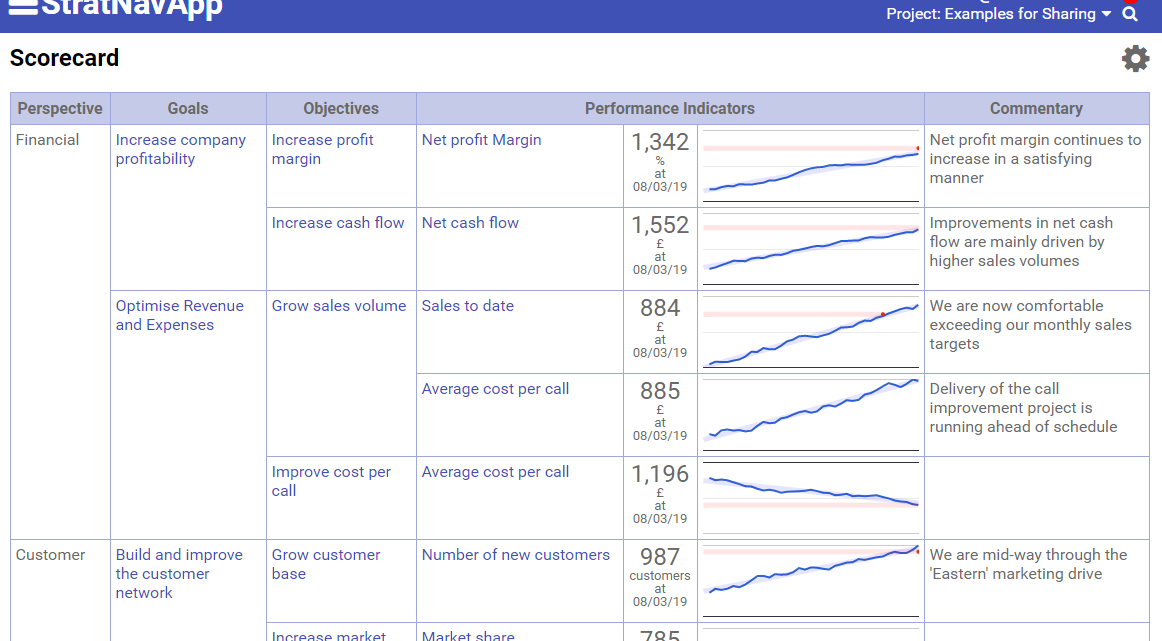 To build your own Scorecard:
On the Strategy Board, click on Add on the Articulation Quadrant, and then click Goals
Add Goals
For each Goal, add one or more Objectives
For each Objective, add on or more Performance Indicators
For each Performance Indicator, add one or more Targets or Actuals
Click on StratNavApp at the top to return to the Strategy Board
Click on Scorecard in the Control Quadrant to see your Scorecard
Once you've added a first Actual to a Performance Indicator, StratNavApp.com will remind you each time the next one is due.
See also: